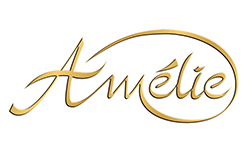 Many years of experience, the use of the finest, luxurious materials, exquisite beadwork and outstanding manufacturing technology are combined for creations with an innovative style, an outstanding quality and a unique fit. A novelty in the coming season: The company now offers four instead of three collections.
The flagship collection represents the characteristic style of the brand and offers a varied selection for every bride with popular designs in high-quality workmanship at attractive prices.
This line was developed especially for curvy brides and convinces with feminine designs and unique pattern constructions for a perfect fit.
Sophisticated, elegant styling and a special attention to detail in the form of characteristic lace details and handcrafted pearl embroidery characterize the look of this luxury line from Amelie.
The latest bridal fashion collection from Amelie was developed to offer an attractive alternative for the price-sensitive bride. This line shows the latest trends and tasteful designs in the highest quality as well as an excellent price-performance ratio.